The act of worship stands at the heart of what we do at Lincoln Cathedral.
The building in all its splendour, and the community in all its dedication, were founded and sustained to achieve a single purpose: lifting every one of us, from casual visitor to devout pilgrim, and bringing us as close as possible to God.
We welcome everyone and strongly encourage you, whatever your own beliefs or background, to join us by taking a few minutes out of your busy schedule to empty yourself of care and reflect on the wonder and vastness of this magical place, whilst listening to some of the most exquisite music to be heard anywhere in the world.
From Ash Wednesday (17th February 2021) we will begin a gradual resumption of public worship within the current guidelines and limitations.  Please see this weeks service sheet for full details.
The Cathedral also remains open in a limited way for private prayer, and access to the Retro-choir (St Hugh's Shrine) for this will be through the Judgement Porch at the south-eastern corner of the Cathedral.
Services are also available to join on https://www.facebook.com/Lincoln.Cathedral
This week's service sheet
You can download this week's service sheet which includes details of music, and any additional services taking place, or changes to our usual daily pattern of worship.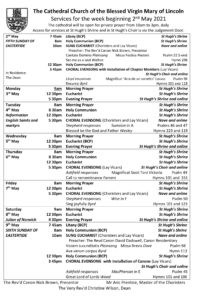 Service schedule for week beginning 2 May 2021
[separator]
Daily Pattern of Worship
Sunday
7.45am – Litany (BCP) St Hugh's Shrine
8am – Holy Communion (BCP) St Hugh's Shrine
10am – Sung Eucharist (Choristers and Lay Vicars) Nave and online
12.30pm Holy Communion (BCP) St Hugh's Shrine
3.45pm  Evensong (BCP) sung by the Lay Vicars St Hugh's Shrine and online
Monday
8am – Morning Prayer St Hugh's Shrine
12.30pm – Eucharist St Hugh's Shrine
5.30pm – Evening Prayer St Hugh's Shrine and online
Tuesday
8am – Morning Prayer St Hugh's Shrine
8 30am – Holy Communion St Hugh's Shrine
12.30pm – Eucharist, St Hugh's Shrine
5 30pm – Choral Evensong (Choristers and Lay Vicars) Nave and online
Wednesday
8am – Morning Prayer St Hugh's Shrine
12.30pm – Eucharist St Hugh's Shrine
5.30pm – Evening Prayer St Hugh's Shrine and online
Thursday
8am – Morning Prayer St Hugh's Shrine
8.30am – Holy Communion St Hugh's Shrine
12.30pm Eucharist St Hugh's Shrine
5.30pm – Choral Evensong (Lay Vicars) St Hugh's Choir and online
Friday
8am – Morning Prayer St Hugh's Shrine
12.30pm – Eucharist St Hugh's Shrine
5.30pm – Evensong (Choristers and Lay Vicars) Nave and online
Saturday
9am – Morning Prayer St Hugh's Shrine
12.30pm – Holy Communion St Hugh's Shrine
4.30pm – Evening Prayer St Hugh's Shrine and online