Beautiful music in a beautiful place
Lincoln Cathedral choir
The Cathedral Choir sings every day, except Wednesday, during term-time. The Cathedral Choir is a professional choir made up of 40 boys and girls, six lay vicars and five choral scholars also sometimes joined by  junior choral scholars. The choir is lead by our Director of Music and Master of the Choristers, Aric Prentice, and by the Cathedral Organist, Jeffrey Makinson.
The choir has an international profile, through touring, radio and television broadcasts, as well as the daily live-streaming of Choral Evensong. During the year, the Cathedral Choir also gives major concerts of Handel's Messiah at Christmas, one of JS Bach's Passions during Lent and with the military bands of the RAF. Our Carols by Candlelight concerts and numerous other events around Christmas-tide are other highlights in the annual calendar. Please see the Cathedral's events calendar to see what is coming up next.
Explore our forthcoming events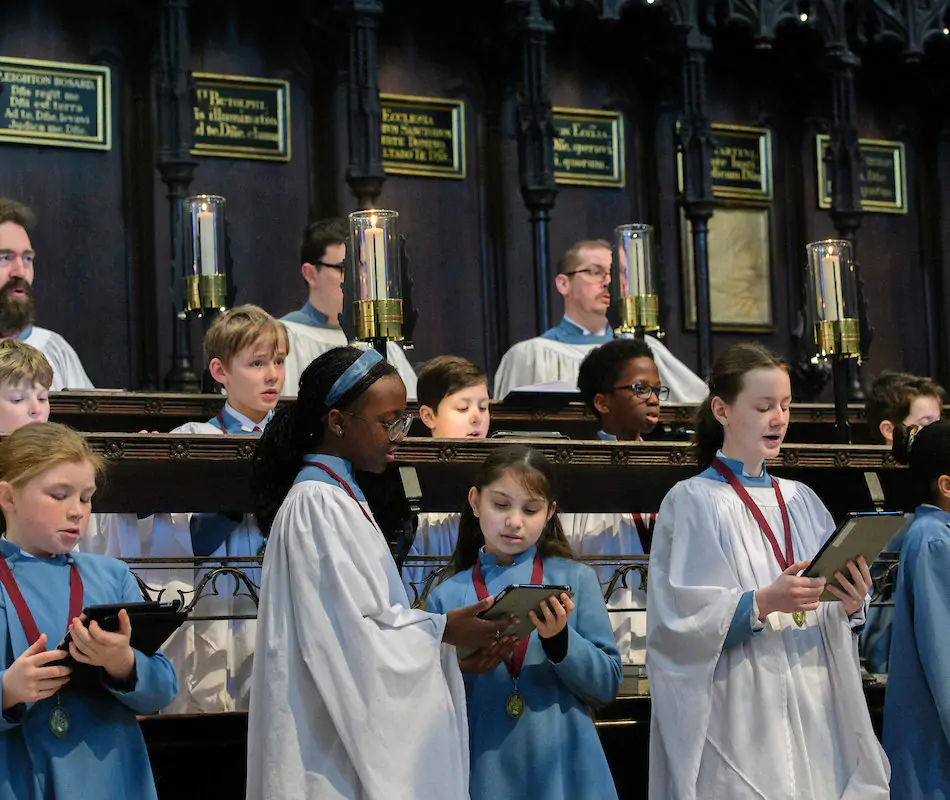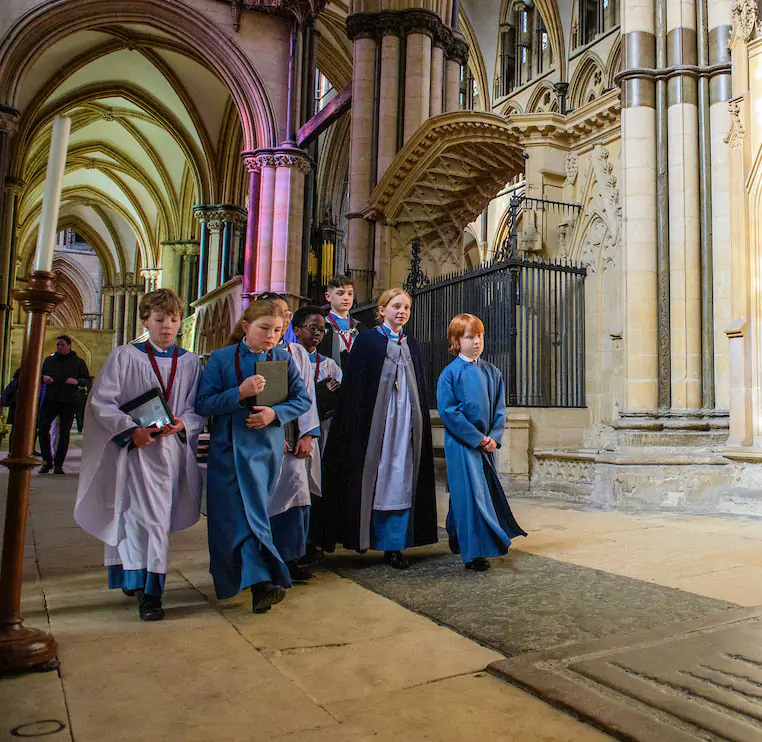 Choristers
Our 20 boys and 20 girls sing on different days of the week and come from 16 different schools. To find out more about the work our choristers do, please click on the link below. We are recruiting right now for both boys and girls. Please email music@lincolncathedral.com
We have choristers singing each day from schools including:
Burton Hathow; Fosse Way Academy; Kesteven and Sleaford High School; Ling Moor Primary Academy; Lincoln Minster School; Nettleham Church of England Junior School; North Kesteven Academy; North Scarle; Queen Eleanor Primary School, Harby; Scawby Academy; St Faith & St Martin; St Hugh's Catholic Primary Voluntary Academy; St Peter at Gowts Primary School; The Priory Academy LSST; Welton St Mary's CE Primary Academy; Westgate Academy; William Farr Church of England Comprehensive School
Find out about life as a chorister
Become a chorister
We're recruiting for boy and girl choristers, email to find out more
The Lay Vicars
Since the Middle Ages, Lincoln Cathedral has employed six professional Lay Vicars (two each on the alto, tenor and bass lines). The Lay Vicars lead the work of the Cathedral Choir, rehearsing on Monday and then singing for Evensong on Tuesday, Thursday, Friday, Saturday and Sunday. They also sing on Sunday mornings for the Choral Eucharist and, when it takes place, Choral Mattins.
Our six Lay Vicars work in a variety of jobs alongside their singing duties. Currently two work in music education, one works for the Diocese of Lincoln, one works in health and safety and one is a physiotherapist. Lincoln Cathedral will be welcoming a female alto as one of its permanent Lay Vicars for the first time in September 2023.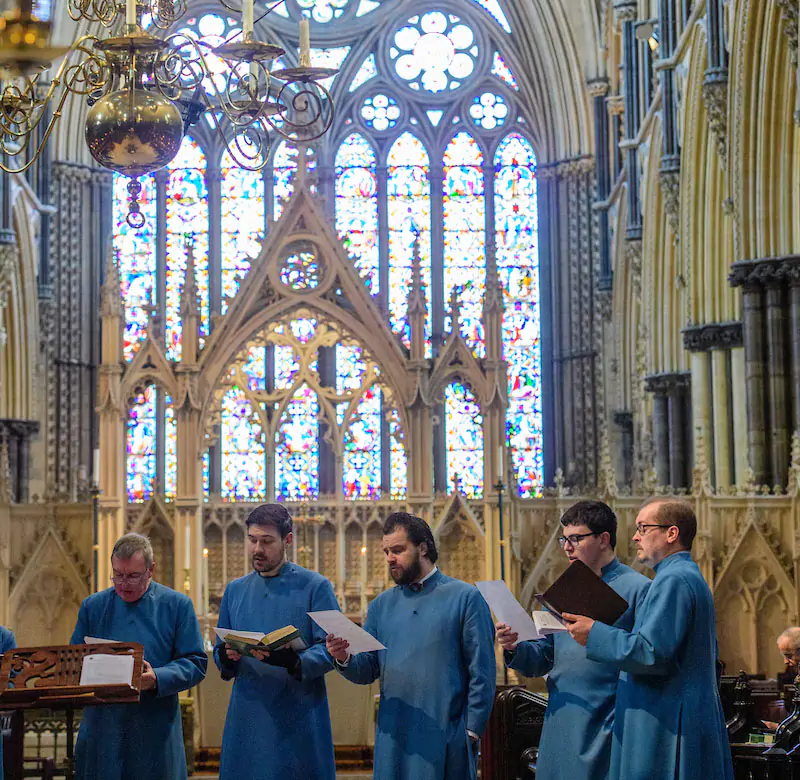 The Organ Scholars
Each year the Cathedral recruits for one of its two Organ Scholars. Scholars are at an early stage in their music career, typically school-leavers or just graduating from their first degree already with experience of playing the organ both in solo repertoire and as choir accompanist. Applicants need not have achieved ARCO or FRCO qualifications or similar, but will be post-Grade 8 standard on the organ and piano.
The scholarship is an intense period of working six days each week with the other musicians in the team with a view to taking up an organ scholarship at university or a first post in the cathedral music world. Our Organ Scholars have regular tuition with the organist and organist emeritus, and receive generous remuneration towards living costs. With the attraction of a beautiful building, superb organ and high-quality choir, the scholarships are much sought-after. Scholars often stay on for two years, supporting a senior scholar in their first year and nurturing a junior in their second. Please contact the cathedral organist jeffrey.makinson@lincolncathedral.com if you would like to find out more about the scheme.
Lincoln Cathedral will be seeking to recruit a scholar for September 2024 in the autumn of '23.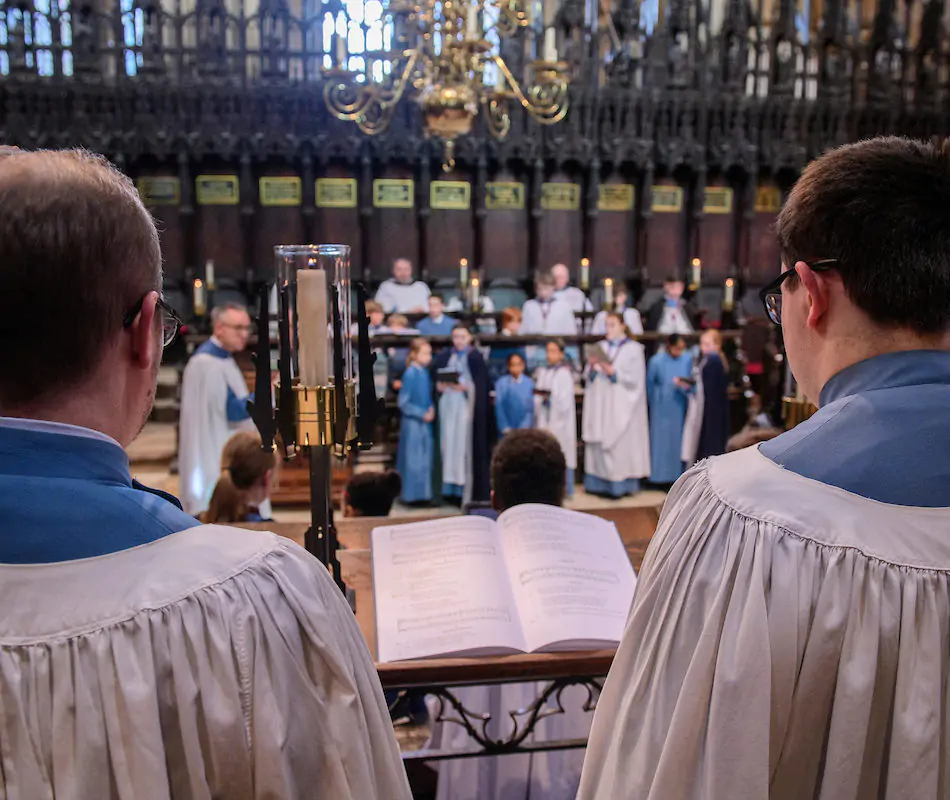 The Choral Scholars
For more than ten years, the work of the Lay Vicars has been augmented and supported by our Choral Scholars, many of whom are just leaving school at 18 or finishing their undergraduate studies. Five scholars are appointed annually. In addition to their annual stipend, they live together in a cathedral property, sing for rehearsals and services and act as chaperones in getting the choristers to and from their various schools.
Former Lincoln Choral Scholars have gone on to sing in many other cathedral and chapel choirs and on the international opera circuit. Many have taken up places at the leading music conservatoires, in Genesis 16, in Voces 8 or have worked with the Tallis Scholars.
Recruitment takes place each year, usually in January, for the following September's appointments. If you are interested in finding out more about our Choral Scholarship scheme, which is generally thought to be one of the most lucrative and rewarding in the country, please contact the Director of Music at music@lincolncathedral.com
Junior Choral Scholars
We give the opportunity to talented Lincolnshire sixth formers and under-graduates at either of the two universities to sing as Junior Choral Scholars during term-time. Following vocal auditions including an element of sight-singing, recipients of these accolades rehearse with our professional singers on Mondays and are invited to join with the choir on one evening each week and in large concerts. This opportunity for young singers is not only great fun, but is an excellent addition to the CV of someone applying for future work and experience in the world of choral music. Please contact the Director of Music on music@lincolncathedral.com for further information about the scheme.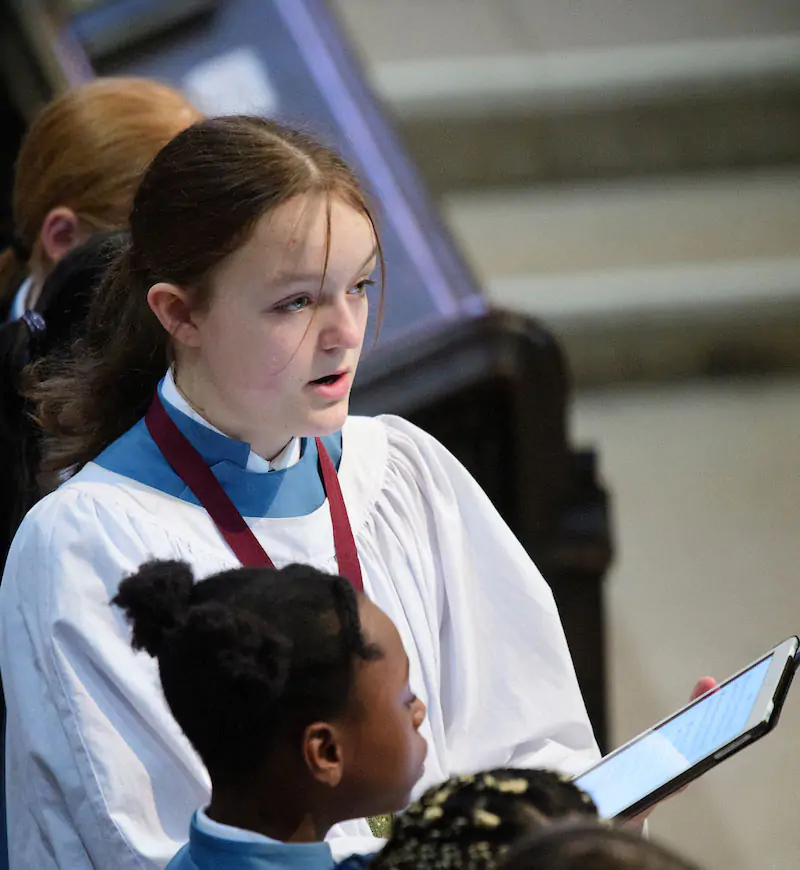 LINCOLN CATHEDRAL CONSORT
Lincoln Cathedral Consort is the mixed-voice, volunteer chamber choir of Lincoln Cathedral, which performs services and concerts at the Cathedral and around the Diocese under the direction of Jeffrey Makinson, the Assistant Director of Music and Organist. The choir rehearses each Thursday evening at the cathedral and sings occasional services in term-time and whole weekends when the Cathedral Choir is on leave.
Some of the events in which the Consort sings include the high-profile Lincolnshire Police carol service and the Lincolnshire County Council service. The choir also frequently sings in parishes throughout the diocese and beyond, and has even toured outside England. The Consort performs music from across the centuries, from sacred to secular with around 40 members.
If you would like more information about joining the choir, please contact jeffrey.makinson@lincolncathedral.com  He will also be pleased to hear from you, if you would like to investigate whether the choir might be available to sing at a parish services or event.
LINCOLN CATHEDRAL YOUTH CHOIR
Our Youth Choir runs for secondary and university singers between 14 and 21. It was formed to give continued singing opportunities to those choristers whose voices have broken and have left the choir, as well as singers who may not have had any cathedral experience before. They sing Evensong every second Saturday during term time with the Lay Vicars and Choral Scholars of the Cathedral Choir, as well as at some special services.
To arrange an audition, please get in touch with the Director of Music on music@lincolncathedral.com Our Junior Choral Scholars are all also members of the Youth Choir.
JUNIOR CHOIR
Our junior choir is called Ready Steady Choir! The choir is for children of primary school age. They meet on Saturday mornings between 11am and 12noon in the cathedral's Song School and they sing fun pieces while improving their musicality. They give a few concerts to parents and the community each year. Some children in Ready Steady Choir! go on to audition for the Cathedral Choir, but others just like singing once a week. For more information, please get in touch with the music department on music@lincolncathedral.com
VISITING CHOIRS
We are fortunate to have regular visits from Visiting Choirs both during the Cathedral choir's holidays and on Wednesdays during term-time. Choirs who have not been to Lincoln before are asked to send a recent recording to ensure that their sound and experience will mesh well with our liturgy. To enquire about bringing your choir to Lincoln Cathedral, to discover which choirs are already in our schedule and to ask particular questions about the musical requirements of our liturgy, please contact initially Melissa Royston on music@lincolncathedral.com